Benefits of Wheelchair Transportation for Elderly Patients
As the elderly population continues to grow, many seniors need assistance when it comes to getting around. Wheelchair transportation can provide a safe, efficient way for seniors to get from one place to another. In addition to providing a convenient mode of transportation for elderly patients, wheelchair transportation can also offer several health benefits.
"The
Be
nefit
s of Wheel
c
h
air T
ransp
ortation for El
derly P
atients
with Limi
ted M
obility"
Wheelchair transportation offers elderly patients with limited mobility the ability to get around without the need for assistance. This allows them to remain independent and maintain their overall quality of life. Additionally, using a wheelchair can reduce the risk of falls and injuries, as well as provide greater support and stability.
Wheelchair transportation can also help to reduce the risk of health complications associated with limited mobility. Studies have shown that immobility can lead to an increased risk of blood clots, and decreased muscle strength. By providing seniors with a safe and efficient way to get around, wheelchair transportation can help to prevent these health risks.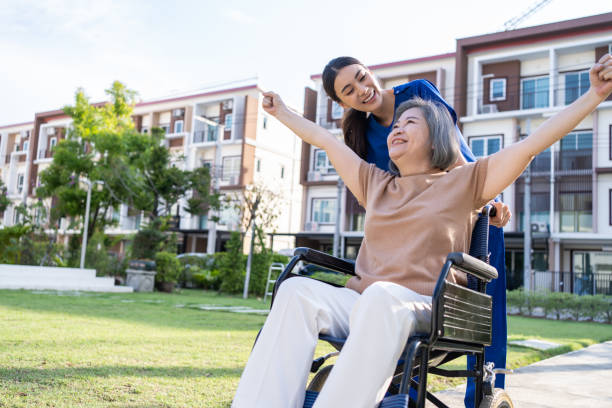 Another benefit of wheelchair transportation for elderly patients is the fact that it can help to reduce stress and anxiety. Many seniors experience feelings of anxiety and isolation when they are unable to get around on their own. By providing a convenient and comfortable way to get from one place to another. Wheelchair transportation can help to reduce these feelings and promote a sense of independence and freedom.
Finally, wheelchair transportation can provide elderly patients with an increased sense of socialization and engagement. When seniors can get out and about, they are more likely to engage in activities. That can provide both physical and mental stimulation. This can help to reduce feelings of loneliness and depression and improve the overall quality of life for elderly patients.
Overall, wheelchair transportation can provide elderly patients with a safe, efficient, and comfortable way to get around. From reducing the risk of health complications to promoting a sense of independence. Wheelchair transportation can offer several benefits for elderly patients.